By Iram Ramzan
This was the week when British Muslims became experts in research methodology.
Trevor Phillips, who led the Equality and Human Rights Commission, presented the Channel 4 show What British Muslims Really Think on Wednesday night, which was based on an ICM survey — and it has created quite a debate.
The ICM surveyed 1,000 Muslims face-to-face and found that:
One in 25 Muslims (four per cent) said they felt at least some sympathy with people who took part in suicide bombings, while a similar proportion said they had some sympathy with "people who commit terrorist actions as a form of political protest".
A quarter – 25 per cent – said they could understand why British school girls could be attracted to become "jihadi brides" overseas.
Less than half (47 per cent) agreed that Muslims should do more to tackle the causes of extremism in the Muslim community.
52 per cent believed homosexuality should not be legal in Britain, 39 per cent agreed "wives should always obey their husbands", and 31 per cent said it was acceptable for a man to have more than one wife.
78% said the media had no right publish cartoons of the prophet Muhammad.
Rather than addressing the important issues raised from this poll, the usual suspects — including left-wing commentators — are either downplaying the worrying responses or dismissing this entirely as 'Islamophobic'. We don't like it when our dirty laundry is aired in public. There are either absolutely no problems, or if there are, it's everyone else's fault but ours.
This poll didn't really tell us anything new. It is a fact that British Muslims, on the whole, do tend to be more conservative. As writer and lecturer Kenan Malik points out:
"This is not the first poll to have shown the social conservatism of British Muslims. Linda Woodhead, professor of sociology of religion at Lancaster University, for instance, conducted a series of surveys with YouGov on religion, politics and social and personal morality, the results of which were published in 2013. I wrote briefly about the findings at the time. The poll showed that religious believers were more liberal on issues such as abortion, homosexuality, same-sex marriage and assisted dying than usually recognized in public debates. The key exception, however, were Muslims, whom the poll found to be more socially conservative than most other religious groups."
When asked 'How strongly do you feel you belong to Britain?', 86% of Muslims did compared to 83% of the general population. A higher proportion of the general population (17%) felt little attachment to Britain as compared to Muslims (11%).
A large proportion of Muslims believe in anti-Semitic conspiracy theories. Thirty-eight per cent thought 'Jewish people have too much power in Britain', 39% that they have too much power over the media, and 44% that they have too much power in the business world. But when asked about what they thought of Jews personally, the responses were more positive. Again, this was not a surprise. I have come across far too many Muslims who believe that Jews control the media and are running the world — oh, and the Holocaust did not happen by the way.
Questions have been raised about the methodology of this research (we're all experts now). It was suggested that, as the survey was done in deprived areas where the population was at least 20% Muslim, it was skewed towards more conservative Muslims. However, the fact is that half of British Muslims do live in areas where there is a large Muslim population. The Muslim Council of Britain's own research shows that Muslims are more likely to live in deprived areas. So this shows that the research is keeping in line with reality. Anthony Wells, from YouGov, believes this poll on British Muslims is the "best I've seen for several years".
ICM did NOT poll only local authorities with 20%+ Muslims, but LSOAs with 20%+ Muslims (those are geographical units of abt 1500 people)

— Anthony Wells (@anthonyjwells) April 11, 2016
51% of Muslims live in LSOAs that are 20%+ Muslim, so there will be a skew towards more muslim areas.

— Anthony Wells (@anthonyjwells) April 11, 2016
But polling British Muslims is very difficult, compromise is unavoidable, and I think this is the best I've seen for several years

— Anthony Wells (@anthonyjwells) April 11, 2016
Admittedly, some of the questions were phrased oddly. And Trevor Phillips describing Muslims as a "nation within a nation" will probably alienate those who would be more inclined to agree with him.
Those who have said that this survey is 'skewed' have shot themselves in the foot.  They have basically just admitted that there are problems when there are large numbers of Muslims living in one area, leading to problems with integration. And if these Muslims surveyed were "more conservative" than Muslims living in areas with fewer Muslims, then why are those people still happy to quote the high percentage of Muslims who identify with Britain? You can't have it both ways.
When the stats tell us something we don't like then it's the usual case of: the sample size isn't representative, it's skewed, they're demonising Muslims again, etc. If this poll is 'skewed' then why don't we dismiss the high figure of Muslims who identify with Britain? Besides, where is the evidence to show that those who live in areas where there are fewer Muslims will naturally have more progressive views?
Roshan Salih, editor of 5 Pillars, attacked the 'Islamophobic' survey. His video message is confusing. On the one hand, stating that more than 50% of Muslims want homosexuality banned is "Islamophobic" (of course) but then says this is not surprising because Muslims are conservative and these are "normative Islamic views" anyway. In 2013, over 500 British imams signed a joint letter to The Sunday Telegraph opposing gay marriage, accusing the Government of attacking "the cornerstone of family life". We are told constantly that certain views are "normative Islamic values", such as opposing homosexuality and gay marriage, or wanting an Islamic state and a caliphate. But don't point this out or you are a bigot.
Maya Goodfellow, from Media Diversified, insists that British Muslims are not a homogenous group entirely separate from wider society. But that's just it. People like Goodfellow do treat Muslims as homogenous. Liberal and ex Muslims are often attacked as 'native informants' or 'not representative' of mainstream Muslims, as though we should all conform to a certain set of values because we are of Muslim heritage.
Speaking of liberal Muslims, what has frustrated me more than anything is some of the liberal Muslims who have also attacked Trevor Phillips and the survey: we weren't represented, it's stereotyping Muslims, they cry. But they were represented. They were the ones who answered in favour of abortion, or homosexuality in the poll.
These are the same people who are constantly mocked, insulted and threatened by the more conservative and extreme elements within Muslims communities. They of all people should know better; they know how bad the situation is for more liberal or reform-minded Muslims. Yet even they have joined the bandwagon and either downplayed or dismissed the survey.  If you are on the liberal end of the scale, why get so defensive when someone talks about those who are not so liberal? Yes, yes, so 50% of Muslims have intolerant views towards gay people, but at least they feel British!
There are certainly progressive voices from Muslim communities now speaking out. But, as Trevor Phillips has pointed out, they are not as influential as one would hope. There are far more conservative and reactionary people who are doing their best to silence the progressive voices.
The views of Muslims today are more polarised than the previous generation — but I do believe that the next generation will be even more progressive and enlightened. Another survey conducted in ten years' time may look very different.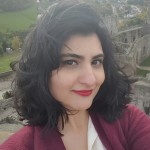 Iram Ramzan is a journalist based in Greater Manchester and the founder and editor of Sedaa. Visit her blog and follow her on Twitter .