By Iram Ramzan
Dissenters from within Muslim communities are often silenced by being cast as 'traitors' or dismissed as not being 'authentic' often.  Often, wider society either looks away, or sides with the reactionary forces within our communities because of fear of causing offense.
A high-profile female councillor in Manchester has been forced out for being too 'outspoken'. The Manchester Evening News website reported how in-fighting within Manchester City Council has been blamed for pushing out Hulme councillor Amina Lone after seven years at the town hall.
Sedaa readers will be familiar with Cllr Lone's articles on misogyny within Muslim communities and the problems of extremism and how they must be tackled.
Earlier this month, Labour MP Sarah Champion was forced to resign from the shadow cabinet after saying Britain "has a problem with British-Pakistani men raping and exploiting white girls". Champion told the Sunday Times that she was "really sorry" at Lone's ousting.
Her deselection, which emerged on Friday, was officially because she did not attend enough council meetings. However, Cllr Lone told the ST during the "very short period" when she was accused of absenteeism she had been working on the EU referendum campaign and was recovering from a fire that wrecked her home. Another, white, councillor with a similar attendance record was not deselected, she said.
In a statement to Sedaa, Cllr Lone said: "It has been a tremendous honour to serve the people of Hulme for the past six years. During that time I have spoken up on their behalf without fear or favour, raising concerns and fighting for social justice. As a working-class single parent, I have used my personal and professional experiences as a foundation to build empathic relationships of trust.
"I'm disappointed that having gone through a challenging period in my personal life and while I dedicated my time fighting for Britain to remain in the EU, Manchester Labour Party has decided I will not be able to stand for re-election to the council. This is despite the fantastic support I have received from many party members, MPs and Councillors including Council leader Sir Richard Leese.
"It is unfortunate there are some powerful individuals with leadership ambitions seeking to curry favour and get rid of an outspoken woman.
"It is sad that a minority within tarnish the work of so many decent Labour people. It is curious this action has been taken at a time when I am loudly championing gender equality within faith communities.
"I will continue to make contributions to develop policies and practices that promote social justice in a collaborative way. This is not a time for us to be a silent majority. My responsibility and my duty as a citizen and a human being is to fight for a progressive, secular, socially just democracy.
"I will endeavour to continue do this to the best of my abilities. Deeds not words."
The 'Biraderi' system, a clan-based system, is key to local politics in parts of the UK. The networks are an extension of systems of allegiance in Pakistan itself. For some members, the clan gives them their strongest sense of identity and personal codes of behaviour.
When a candidate is chosen for election, it will usually be a Biraderi elder. He will have been chosen by his clan on the basis of bloodlines rather than personal ability. His name goes out to the extended clan in Pakistan and the UK.
Alliances between politicians and Biraderi elders in Pakistan lead to leaders travelling to the UK during elections and instructing their clan members to vote for a particular candidate. Without this support, the candidate is doomed.
It seems to me that Cllr Lone has fallen foul of the Biraderi clans, speaking out on difficult topics and discussing the problems that exist within Pakistani, Muslim communities.
In an open letter to Linda Priest, Chair of Manchester City Labour Party, fellow party member Drew Walsh said:
"I have become deeply disappointed in Manchester Labour. Too many bad things have been allowed to happen and those who should stop this from within the Party fail to do so while most members, councillors and officials acquiesce with their silence.

"The few who raise it within the Party are ignored or failed by internal processes that are manipulated. The more this is allowed the more individuals and factions know they can get away with it and the more prevalent it becomes. Failure to speak out for fear of bad publicity is doing a disservice to our Party and betraying the basic principles of the Labour Party that I hold dear.

My commitment to Manchester Labour has been demonstrated over the years. I have been a constituency secretary, branch secretary, treasurer, fund raiser, agent and campaign organiser. Many times I have walked the streets delivering leaflets and knocking on voter's doors. I say this not as a boast but a demonstration of my belief in our Labour Party and that I am not speaking out now out of malice towards our Party. My guilt is that I have been silent too long and not spoken out against this corruption of our principles much earlier.

It is common knowledge within the party and the press that Gorton Constituency has long had problems. It has been manipulated by a small group including constituency officers. The extent reaches to death threats, bullying, financial
irregularity and gerrymandering without any effective action beyond a simple suspension for a period. With others I tried to address the "fixed" AGM meetings and explained directly to Labour's North West Region officers how to prevent it. No action was taken and this failure has allowed the constituency to descend further and further into the mire. Not one individual has been sanctioned though everybody knows those involved.

"Again, it is well known within the party and the press that the selection of the candidate for the Gorton Constituency was not the fair and open competition it should have been. The defamation of candidates, the secret meetings, the mass signing up of supportive members. It all happened and was quietly condoned within the party. An explanation to me was that this is what always happens which just demonstrates how low our standards have become.

"That Manchester Labour Councillors form factions should come as no surprise and were these open campaigning groups the Party would not have a problem. Unfortunately they are not. People act not to do what's right but to further their power and factional aims regardless. Councillors who do not fit in and comply are sidelined or worse still removed from the council.

A number of councillors, often women and some with family commitments, have stepped down having been pressured to do so. Such factions and particularly a small group near the top of the Manchester Labour Group that demonstrate their power over others by threats and manipulating party structures is shameful for all of us in the Party.

Take the case of Councillor Amina Lone. A person who has sacrificed much for the Labour Party. Taking the best part of two years to fight the Morecambe seat in the 2015 general election, giving up paid work and using her own limited financial resources in the campaign. Amina was recognised by many in the Labour Party, in the constituency and elsewhere, for her hard work, dedication and sheer time spent on the campaign. During the Brexit referendum Amina was again recognised by being selected for a national role in the Remain campaign.

"In the most important vote of my lifetime she worked hard to support Labour's policy to remain in the EU alongside many other prominent Labour Party figures. Yet moving forward only a few months, Manchester Labour decides Amina Lone is not suitable to be a Manchester Councillor!

"A powerful faction with leadership aspirations sees benefit in ousting a person who is listened to and who does not always agree with the leadership and with a track record of fighting for her beliefs. The whole process of interview and appeal was manipulated from beginning to end with background conversations stating her removal was a done deal before it even started.

"The reason given for such a wrongful decision was so poor as to beggar belief. The statement did not describe the damage Amina caused the Labour Party because there was none. Instead the statement condemned her for "nearly" doing something while openly admitting to failures in the chief whip's process that were all too obvious.

"It seems you don't even need to take care when you corruptly wield power. It was significant that supporting statements from the leader of the council, a local MP, other councillors, a member of Morecambe constituency and others were deemed irrelevant. When you have the power and people are not prepared to speak out you can do as you wish in Manchester Labour Party.

"This shames all of us in Manchester Labour and must be stopped."
Labour has a reputation for being the party for Black and Minority Ethnic voters and candidates, particularly women.  At a time when we need more voices from within Muslim communities, it is outrageous that the Labour Party has stabbed a fellow party member in the back, sending out the message that any dissent or strong voices are not welcome.
*Update*
Linda Priest, Chair of Manchester City Labour Party, has since responded to the open letter from Drew Walsh
Dear @TheSun
Will you or those tagged be sharing the statement by @McrLabour on @Amina_Lone or just stick to media sensationalism? @UKLabour pic.twitter.com/L0edjPHJy5

— Siema Iqbal (@siemaiqbal) August 30, 2017
In response to that, here is Cllr Lone's second statement:
First, I would like to thank the many Labour Councillors who have contacted me privately to express their support and concern.
I have nothing to hide nor do I have anything to gain by telling the truth. I am mature enough to admit I made a mistake over a period between April and July 2016 (there were no council meetings in April and August). I did however amongst other things attend ward meetings, advice sessions, community meetings and Labour Group.

I also prioritised a national role in the Remain campaign supporting Labour's position in the most important decision of my lifetime. At the same time, I was supporting my very fragile family after a devastating fire burned our house down a few months earlier.

I was justifiably admonished and called for an interview to explain. I apologised a number of times for the situation and later I was told, "I was not contrite enough". This is despite doing 16 out of 22 (over 70%) campaign sessions set for the same time period. Also between the panel and appeal (March through to July 2017) I more than made up for missed campaigns sessions.

It is clear the final excuse for removing me was on rule interpretations often ignored for others whilst ignoring the contributions I made for the Labour cause over the last ten years. I appealed and provided fifteen statements of support from local ward members, residents, Cllrs and activists including statements from the council leader and a local MP. I was
repeatedly advised by trustworthy people that I was 'going to be made an example of' so I was not surprised when the appeal was refused. A fellow, white councillor in similar circumstances was reinstated.

A year later I am still waiting to receive basic information, including reports and change of circumstances procedures, from the chief whip in relation to this period. The omission from the recent statement by Manchester Labour that the chief whip failed to follow established process (as set by the previous Chief Whip) is telling. Yet this was admitted in
their statement informing me my appeal was rejected.

The lack of regard or acknowledgement of inconsistent implementation of the rules and failures within the Labour Party is also quite incredible. The blanket refusal to acknowledge allegations raised by Drew Walsh of wrong doing over many years within the Gorton constituency Labour Party is significant. Is it a surprise considering other majority BME constituencies around the country have been suspended in similar fashion, one for over two decades?

This begs the question: is the party rulebook fit for purpose and/or does the party know (and is covering up) a deeper problem? In Manchester, there has never been a Muslim woman in a leadership (executive) position, representing the city as Lord Mayor or selected as an MP despite putting themselves forward. Muslim men have been elected to all those roles.

In May 2011, I stood for an internal Labour group position of deputy executive member and won by one vote. To break confidentiality rules and bring this up to use as a defence for equality six years on, really just demonstrates the denial and collusion of the powerful within Labour. It is also a warning – anyone who dares question the authority of the campaign coordinator will have difficulties.

Here are just three examples of the biradari system operating in Manchester Labour – all relate to existing or former MCC councillors who are all Muslim. All were told to me first hand but the women involved do not want to come forward.
1. A women was told by two males when she attended her first meeting, "How the f*** did you get on without us bringing you through?
2. When a woman was shortlisted for a seat she was visited by two men. Her husband was asked to encourage her to stand aside for another man. She could wait her turn.

3. I have been called and told, "You are with us or you are against us" when I was supporting a Jewish candidate.

This year I have received 'verbal warnings' which have increased in number each month for daring to challenge the status quo. I have been informed 'I need to be taught a lesson".

Expecting me to deny my experiences and those of many others who are afraid to come forward is indicative of a Labour Party out of touch with reality. I maintain there are lots of brilliant people, including lots of my colleagues, in the party – sadly not enough of them hold power or are willing to hold power to account.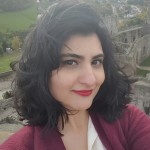 Iram Ramzan is a journalist based in Greater Manchester and the founder and editor of Sedaa. Visit her blog and follow her on Twitter .