By Muna Adil
Channel 4 recently attempted to give female Muslim voices a platform after a report titled 'The Missing Muslims' described the relationship between British Muslims and the UK government as "broken."
Following the report's overwhelmingly negative reception, Assed Baig, the senior reporter who presented the package last week, has since left the channel, although he and the network claim this was decided weeks in advance to the airing of the segment.
Yet this isn't the first time Baig has come under fire for supporting controversial views. In 2011, he tweeted: "Anyone that attends a British government iftar is a sell-out and an Uncle Tom." In 2012 he said that the "term Uncle Tom should be readopted in media and political circles" because it is "always relevant." And in 2014, he tweeted "a man dances for his master because he's a house Muslim," in which he tagged Adam Deen, the Executive Director of counter-extremism organisation Quilliam.
Baig has also in the past refused to categorically state that members of the Ahmadiyya community are Muslim, said of British soldiers fighting in Afghanistan "They are not my boy or 'our' boys," and in an article for The Huffington Post in 2013, reduced Malala Yousafzai's incredible story of survival and resilience to "a historic racist narrative that has been institutionalised" of "a native girl being saved by the white man."
While this is just a glimpse into Baig's history of courting views typically taken by Islamists, his most recent report on Channel 4, one which the Deputy Editor of the channel Nevine Mabro called "fantastic" before viewers began picking it apart, easily takes the cake. In it, he interviews a number of young Muslim women who we are told are going to "fight back by rejecting stereotypes." While the entire production of the report is absurd, with the interviewees standing in a boxing ring and striking punching bags and tyres, the most appalling aspect is perhaps Channel 4's collection of what they assume to be 'progressive' female Muslim voices.
Baig opens the report with: "Stereotypes portray them as weak and meek. But this group of Muslim women don't accept that." One of the women in particular, Nadia Chan, expresses some particularly stunning views. Nadia introduces herself as an "anti-colonial Islamist."
A quick Google search on Nadia would have found this:
Of white people, she said "My condolences to you b*****s with white mums." Called white people "honkies", "swine", and "cave parasites," and quoted Zimbabwean dictator Robert Mugabe, saying "the only white man you can trust is a dead white man."
She tweeted threats such as "All anti Pakistani & anti Muslim PARASITES r gonna feel my wrath, half these CONfued B*****S in London, can't wait to meet 🙂 u gonna remember."
Of the Spain terror attack, she said: "Europe is paying for its colonial crimes" and exclaimed that the five terrorists shot dead weren't given "due process."
She called Israel a "parasitic entity" that "MUST cease to exist," and added "Furthermore, every single Israeli is a parasite."
She described the Independent Police Complaints Commission as "made up of ex-cops (pigs) … Pigs are pigs, time to get justice done ourselves."
On Facebook, she stated that the terror threat to Britain was "imaginary" and declared that "BBC is straight up Zionist, imperialist state propaganda."
On Iranian State television, she openly supported terror attacks and violence: "We must understand that Palestinians must take all forms of resistance to free their land," including "everyday items to resist whether it's knives, cars […] to strike fear in the hearts of their oppressors."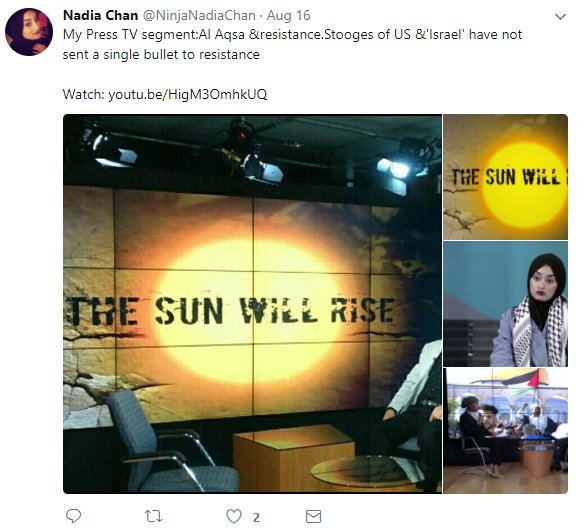 Surely there was some research done before inviting the group to speak on behalf of, and as a representation of, young British Muslim women? If viewers were able to dig up all this information on Nadia just minutes after the report was added on the Channel 4 website, are we really supposed to believe that professional journalist Assed Baig and media machine Channel 4 were unaware of Nadia's views before they decided to give her a platform on one of the UK's largest broadcasting networks? Channel 4 have since removed the report from their website.
More information can be found on @uberfeminist's Twitter thread.
Moderate and liberal female British Muslim voices exist. But in a country where Naz Shah wins brownie points for disparaging another woman for speaking the truth about grooming gangs, and where Amina Lone gets deselected after serving as councillor for seven years simply for voicing her opinion on the matter, it begs the question: is Britain even interested in hearing female liberal Muslim voices?
As for Nadia, and what appears to be a generation of Muslim girls in Britain who share her views, it is embarrassing to see that their version of "rejecting stereotypes" is anything but that.
Nadia and the other young women in the report attempted to argue that the government's anti-extremism program Prevent was unfairly targeting young Muslims who are afraid to share their opinions lest they get "Prevent-ed." Ironically, all this Channel 4 report has done is proven just how direly we need interventions like Prevent in order to nip this kind of vitriol in the bud before it transpires into more serious operational activities.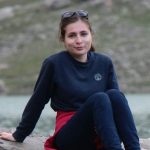 Muna Adil is a researcher and media strategist at Quilliam International. She read Philosophy at the University of St Andrews and then later went on to complete a Masters in Journalism from the University of Central Lancashire. Muna has contributed to several publications, including The Wall Street Journal, The Telegraph, and Newsweek.