By Jimmy Bangash
I couldn't wash my brothers corpse; "You are no longer Muslim!"
Religious prohibitions.
Enforced by other Muslims
Islam had kept us strangers the last decade of his life,
In death it intercedes
my attempts to quell our strife
As his corpse was lowered to the ground and ground upon it lain,
My mother watches from afar;
Islam supersedes her pain
For women may not linger near; This domain belongs to men,
And mothers, sisters, wives & more must segregate again
So Far from Son that she has born and distant from his grave,
whilst men he never met in life
take proximity she craves
Womb and milk they count as naught; Men's members have arrived.
She strains to see beyond their frames, tears glisten as she cries
Beneath the blue sky, white clouds part and sunshine takes their place,
It fall upon the womenfolk and gently warms her face.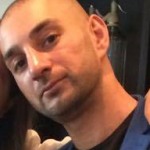 Jimmy Bangash is a gay, British, Ex-Muslim Pakistani. He grew up in a traditional Pashtun family in London where he stood in ardent opposition to the patriarchy and misogyny in his community. His poems and prose focus on Islamic patriarchy and the experience of gays of Muslim heritage. He is a co-founder and integrative coach at integratedwellness.co.uk. 
You can follow him on Facebook and Twitter.