In what appears to be the worst mass shooting in US history, 29-year-old Omar Mateen opened fire in a gay Florida nightclub at 2am on Sunday, killing 50 people and injuring up to 53 others. Orlando sheriff Jerry Demings called the shooting a "domestic terror incident" and the FBI — who already had Afghan-American citizen Mateen on their radar — are now investigating his links to terror groups abroad.
His father, Mir Seddique, claimed that Mateen's motives were not religious, and that he had been incensed by the sight of a gay couple kissing. However, I.S. have since claimed him as one of their fighters.
After every tragedy, it's always the same.
You have people rushing out cut-and-paste condemnations of specific incidents, having previously made no attempt to counter homophobic, sectarian and other anti-minority attitudes.
You have people refusing to acknowledge that there are glaring problems with anti-minority attitudes in some religious texts.
You have people who are more concerned with their own image as a "religious community" rather than extending solidarity to other individuals on the basis of our common humanity.
You have people who support your allyship with LGBT individuals, but only on the condition that they (unlike you) never put their heads above the parapet.
You have people who genuinely think they are being good and pious by recommending lifelong celibacy to others who don't share their straight orientation, or those who enter into non-traditional (yet ethical) relationships. Of course, this is a state of being they would never choose for themselves.
You have people who honestly think that you are "selling out your own community," for daring to suggest that reciprocity is a key part of upholding good relations between different minority communities in the West.
You have people who think they are genuinely furthering the cause of Islam by making personal attacks against women and LGBT-friendly religious initiatives.
If we genuinely want positive change, we need to do the polar opposite of all these things, and become louder and clearer in challenging those who uphold them.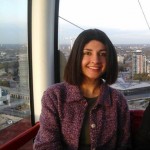 Tehmina Kazi is a human rights activist and writer based in Cork, Ireland. Tehmina was the Director of registered charity British Muslims for Secular Democracy from May 2009 to August 2016, where she worked to raise awareness of secularism among British Muslims and the wider public.
Contact her on TKazi83@yahoo.co.uk.