The International Conference on Freedom of Conscience and Expression saw what the organisers described as the 'largest gathering of ex-Muslims in history during 22-24 July 2017 in London.
Over 70 notable speakers from 30 countries came together to honour dissenters to defend apostasy, blasphemy and secularism.
The sold-out conference highlighted the voices of those on the front-lines of resistance – many of them persecuted and exiled – and included the first London film screening of Deeyah Khan's film, Islam's Non Believers, a public art protest of 99 balloons representing those killed or imprisoned for blasphemy and apostasy, a body-painting action, and crucial discussions and debates on Islamophobia and its use by Islamists to impose de facto blasphemy laws. The conference hashtag, #IWant2BFree, trended on Twitter during the two days.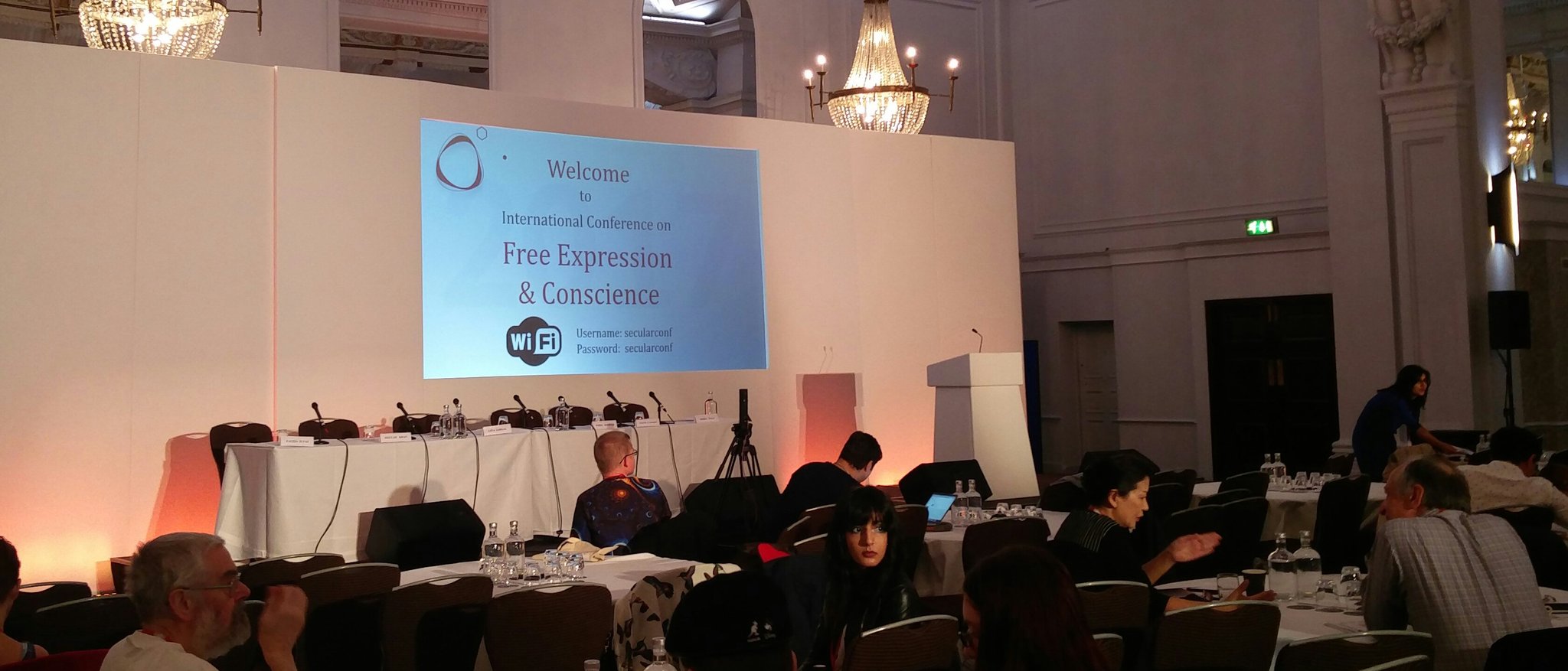 At the conference, the Council of Ex-Muslims of Britain (CEMB) honoured ten individuals who have campaigned tirelessly on secular issues to mark its tenth anniversary.
The conference issued resolutions against the no-platforming of Richard Dawkins by KPFA radio station and in defence of Ismail Mohamed who was prevented from leaving Egypt to speak at the conference by the Egyptian government, and on CEMB's presence in Pride in London as well as a Declaration of Freethinkers (see below).
The event was live-streamed, which can be seen here.
Resolution on Richard Dawkins
The conference organisers expressed concerned that Richard Dawkins was recently de-platformed by the radio station KPFA in Berkeley, California because of his alleged "hurtful" comments on Islam.
Professor Dawkins is a well known critic of all religions, whose long-standing attacks on Christianity have never resulted in anything approaching de-platforming.
The International Conference on Freedom of Conscience and Expression was also outraged to learn that the Egyptian government prevented Ismail Mohamed from speaking at the conference, where he would have been a crucial voice. Ismail was at the airport to fly out to London but was stopped by the Egyptian authorities. We demand that the Egyptian government allow Ismail freedom of movement and end his persecution and that of all freethinkers.
Resolution on the Council of Ex-Muslims of Britain at Pride
CEMB joined Pride in London this year to highlight anti-LGBT persecution as well apostasy and blasphemy laws. 14 Islamic states (15 if ISIS-held territories are included) punish homosexuality with the death penalty. Moreover CEMB aimed to expose East London Mosque (ELM), which has given a platform to hate clerics who have justified the murder of gays and apostates.
After Pride, the ELM made a formal complaint over CEMB's 'Islamophobic' banners. The complaint was referred to Pride's community advisory board to "decide on whether CEMB will be allowed to march again in the years ahead".
Conference organiser Maryam Namazie with Gita Sahgal from the Centre for Secular Space.
Declaration of Freethinkers
The International Conference on Freedom of Conscience and Expression calls for the following:
End the killing of apostates and blasphemers
Release those on death row or in prison simply because they are atheists, freethinkers, apostates or blasphemers
Repeal apostasy and blasphemy laws
Clarify that freedom of conscience and freedom of belief guarantee the right to freedom of and from religion; and that religion is not an excuse for silencing dissent or threatening other rights and freedoms
Protect the right of freedom of expression to 'offend', without which no human progress is possible
A declaration of principles showing that the human right to freedom of conscience is explicitly embedded in human rights documents and is not limited by any right to religious belief.
The above resolutions can be found in detail here.
Sedaa founder Iram Ramzan, who was co-hosting the event, said: "The conference reminded us all that there are people in the UK and around the world who are ostracised or persecuted simply for deciding to think for themselves.
"It was also noted that one does not necessarily have to be an atheist in order to be a champion of secularism. In fact, a lot of religious people at the event recognised that secularism allows them to worship in the way they want to, just as it would protect non-religious people. A secular state would remain neutral in religious affairs."
Were you at the London conference? If so, share your thoughts with us on Twitter and Facebook, or leave a comment below.